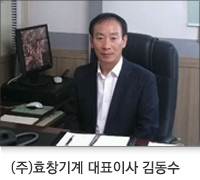 Thank you for visiting our homepage!

We, HYOCHANG MACHINERY, are innovative and challenging company, giving top priority to trust, pursuing the best quality and opening up the future with customers.

Concentrating all our technical power accumulated since foundation in 1989, we will continue to do our best to satisfy customer needs. From 2006, we can provide more rapid, exact and cheaper service for customers.

We dash forward for everlasting development with you and willingly accept your advice. We wish you to encourage us with much affection and your business eternal success.


Thank You!